2011 Doberman Breeders Stud Fee for
K-Nine's Cairo In Motion is $600.
Cairo is Von Willebrand's Clear, or VWD Clear.
He can sire red doberman puppies. His father grandfather was red.
Very seldom do we have blue doberman puppies.
We require a negative brucella canis screening from your vet
if you are doing live cover.
Results take a couple of days to return,
so plan to do this before the second week of her heat cycle.
The average cost is around $50.00.
Having been doberman breeders for over 15 years,
we have no "Z" factor in our lines.
Reputable doberman breeders not breed to dobermans carring a white gene.
Check your AKC pedigree.
There cannot be a "Z" in the first two letters of the registration number.

Artificial Insemination is now available. We ship live cooled semen. Collection plus shipping costs are $205 ($90 for the collection fee, $95 for the FedEx air freight bill, and $20 for the disposable shipping container.) in addition to the stud fee. The collection will arrive at your vet in a thermo-safe styrofoam shipping box, and you may keep the polar packs and reuse them. Additional insemination costs will apply once your vet receives the overnight shipment. The AKC requires a veterinarian to certify the collection and insemination. If for some reason your dog does not have a litter of puppies (a litter from K-Nine Dobermans is considered two or more puppies), we will rebreed your dog for no additional stud fee on either of her next two heat cycles. However, for every shipment, the collection, shipping, and container fee will apply. If your vet recommends two inseminations to help increase your chances of fertilization, the collection, shipping and container cost will apply for every shipment. It is your responsibility to determine the timing of the ovulation. The stud fee, collection, shipping and/or container cost are non-refundable.
I am my own webmaster, photographer, and video editor. If you select Cairo as your doberman pinscher stud, I may be able to help you advertise your puppies and place them in homes.

If you are looking for a doberman pinscher breeder in your area,
consider one of our doberman puppies.
If you place a deposit on a current or upcoming doberman puppy,
the deposit is not refundable.
However, you may apply it to any puppy in the future.
All of our puppies are sold with limited registration unless otherwise in writing.
We have flown doberman puppies all over the country.
Here's a photo of one flying.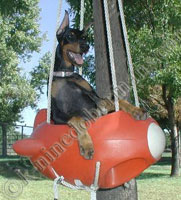 You can fly an 8 week - old doberman puppy almost anywhere in the Continental US
for just under $280 provided daytime temperature meets standards.
Included in this price is the airline ticket and certificate of health.
We will also need to make arrangements for an airline approved kennel.
The price quoted does not include the kennel.
Doberman Puppies must be 8 weeks of age to fly.
You will need a health certificate from my vet within 10 days of the flight (I will do this for you)
And possibly an "Acclamation statement"
depending on the departure and arrival temperatures.
I will get both documents from my veteranarian.
Doberman puppies are shipped in a pressurized, temperature controlled cargo area.
However: there are restrictions on temperatures because of waiting time to be loaded onto the plane during certain times of the year.
They can be exposed to outside temperatures and airlines also ask for "Certificates of Acclamation".
Be sure you check with your specific flight.
For full flight instructions along with links to airlines,
go to the "Library" and click on Airline Shipping & Supplies.
Shipping A Doberman Puppy By Air

When you receive a doberman puppy being shipped by air to a large airport,
most of the time you will be given directions to an outside cargo shipping/receiving facility,
usually a separate building or module away from the main terminal.
Generally you do not go thru airport security in a large airport.
You merely pull up to the small building and go into the office.
There may be exceptions to this procedure if we are using a smaller airport.

I will gladly answer any other questions.
We have been doberman breeders for more than 15 yrs.